The Story Behind the Film
BACK STORY: 1981
Film makers Dallas Burney, John Dickson, Philip Haynes, John Molony, Mark Rumer and John Wardlaw, working under the guise of TOPOGRAPHIC PRODUCTIONS had completed one War Movie, three Space Epics and four comedies. And then they graduated from High School.
Sure, the films were not professional but they were in fact FILMS, not video. While each member of the group moved on with their lives, some going to college, some working and one joining the US Air Force, the films continued.
It was at this time, long before John Cleese spoke the line, that Lames Blond Agent Double O Zero was created. Topographic Productions made three LAMES BLOND films by the end of 1982, shooting on weekends when they could all get together. In the third, and considered to be, the last film (TOO LATE THE HERO) the character of Lames Blond (played by John Wardlaw) was killed of while, of course, saving the world. And to this group of friends it was thought, that was that.
After making several more films by the end of the 80's, including INDIANA ZONE AND THE TEMPLE OF SHROOM and STONED TO DEATH, Topographic movies called it quits. Two years passed and then something unthinkable happened. John Wardlaw, sick of his 40 hour a week computer job, entered film school.


At film school John Wardlaw met fellow film maker Michael Wilcox. Since Wardlaw liked to direct and Wilcox liked to shoot it was the perfect combination. While at film school the two made the Telly Award Winning film CHESSMATER THEATRE and many other comedic shorts. It was during their first year, while feeling unchallenged by the academic requirements of their coursework that Michael suggested the two take advantage of the access to all the 16mm film and lighting gear and make a film on the side. He also suggested to Wardlaw that the story should be a more professional version of his old Lames Blond films.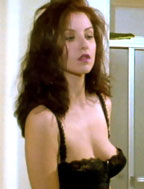 1991:
With a 60 page script of mostly notations like "place funny line here" and " add action scene here" Wardlaw and Wilcox reformed the group of friends for the last TOPOGRAPHIC PRODUCTION. The mostly 16mm film was made as a sequel to the 1982 film incorporating Lames Blonds death scene, which really only put him in a coma for 10 years. The film featured many new and old faces to these long time friends as well as some sexy actresses from the local talent agency. By the end of 1992 shooting of YOU ONLY DIE ONCE was complete. Now while in post production classes at school it was time to do post production on DIE ONCE.
1993: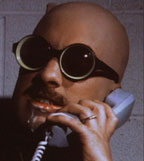 YOU ONLY DIE ONCE was released to a standing room only premier in Santa Barbara ca. And until 1997 that was as far as it could go. Sadly there was no money or time to compose a soundtrack so the original version of the film featured music by Tangerine Dream, Ronnie Montrose, The Ventures (Hawaii Five-0), Enya and the score to the TV series Star Trek. Since the rights to those songs were not owned by Topographic Prod. the film could not be released.
1997:
Technology was finally there and it was time to finish this film. So back Wardlaw and Wilcox went into post production and composed a soundtrack with the help of some friends from the band ANTI-M who had worked with Ronnie Montrose. The film was re-edited and remixed and released in 1997 on VHS.
2003:
Somewhere along the way Amazon.com came into existence and YOU ONLY DIE ONCE actually sold out. Not wanting to reprint VHS tapes Wardlaw had all of the film transferred to DV, re-edited and remixed the entire thing once more for DVD. In November of 2003 YOU ONLY DIE ONCE was released on DVD. Now in 2013 the question is: Will there be a blu ray? I think not. While Wardlaw plans on transferring the original film negatives to HD there is no plan to re-release the film on Blu Ray. There simply isn't any money in it. Perhaps an HD streaming version.
THE FUTURE:
Why spend all this time and money on a low budget flick like this? Why not! It was fun to make and fun to work on each improvement. The real question is will that same group of friends ever get back together to make another TOPOGRAPHIC PRODUCTION? Will Lames Blond rise again? Only time will tell. In the mean time Wardlaw continues to enjoy making films under the title WEDGE PRODUCTIONS.
Additional Cast info | Digital Restoration | The Films History | Purchasing