Click here for a really great review in 2013
The Bolt Who Screwed Christmas played its last regular film festival in December of 2012 atL'hybride in Lille, France
Interview with the Miami New Times
The Indie Gathering Film Festival August 26-28, 2011
The Bolt has won BEST ANIMATED SHORT COMEDY and will screen at this years Indie Gathering Film Festival. I thank Ken Mora of MAGNUM FARCE for suggesting I submit to this festival. I only wish I could attend.
Action on Film International Film Festival July 22-30, 2011
The Bolt will be making it's final Southern California screening at the 2011 Action on Film International Film Festival. If I or any of the cast or crew are able to attent I will post it here.
Ventura Film Festival July 8-18 2011
The VFF has been very kind to feature my short film NO! NOT THE CHICKEN! along with my award winning CHESSMASTER THEATRE and CHESSMASTER THEATRE BLOODY REVENGE. They will be running in the animated shorts programs on Saturday the 16th. Also being screened are my two latest music videos LET U IN and INTO THE RAIN. Jordan Older, director of the VFF was interested in starting a music video category but made the decision a bit late so on Monday July 18, they will be screening all my music videos to kick off what will be a Music Video program at future VFF festivals. I will be attending all the events.
Florida Supercon Geek Film Festival, July 1-4 2011
Animators Adny Angrand and Cindi Foster plus Dave Goudsward all are currently planning on appearing for Q&A on behalf of their part in the making of The Bolt. Sadly I cannot attend. This marks the first time any of the three of them will see The Bolt in a theatrical screening. (Note: Dave and Cyndi both attended screenings, but alternate screenings and didn't meet. I thank them for their efforts. Adny was not able to attend.)

Motor City Comic Con, May 13-15 2011
Marta Kristen actually told me about this Con as she was going to be one of the guests, so I sent the film along and they created a special screening for it. My thanks to Marta and thanks to Motor City Comic Con! Marta ws at this event.
Faux Film Festival, April 1-3, 2011
The Bolt screened in the Faux Film Festival on Friday April 1 in beautiful Portland Oregon. It was a nice weekend. Got to see old friends including guitarist Steve Weber, Film Maker Greg Kerr (Unremembered), Animator Kyle Bell (The Mouse that Soared), and my old Santa Barbara friends Kevin and Brian. Steve holds the record for the most screenings of The Bolt. He has seen it in Corvallis, Portland and Seattle. Kevin has seen it in Seattle and Porland. I thank my friends who came out in support of the film. The Bolt was one of the 2011 "BEST OF FAUX" AUDIENCE AWARD WINNERS.
Victoria Independent Film Festival January 28th in Victoria, Australia 2011
For the second time the Bolt Who Screwed Christmas screened in Australia.
Nevada Film Festival 2010
December 4th, 2010 The Bolt was awarded BEST ANIMATED FILM at the Nevada Film Festival. I was very sad that I could not attend due to eye surgery a few days before the festival.
Ojai Film Festiavl 2010
Sunday November 7th. My friend Derek met my wife and I in Ojai for this festival where the Bolt screened with several other local animated shorts as part of the Ojai Film Festival. The sad part about being put in a "Local" Category is tt usually disqualifies you from competition. However, the festival was fun, the audience was good and the other films were great.
Animazing Spotlight Animated Shorts Film Festival 2010
September 4 & 5 at Woodbury University. The Bolt ran in this festival as part of the "nominations for achievements in humor" segment. Sadly I was not able to attend.

Bolt Wins at Dragon*Con Film Festival 2010
Labor day weekend and I was off to Atlanta, Georgia for Dragon*Con. If you have ever been to a scifi, fantasy, movie, tv etc convention well this is the biggest one in the world. Dave Goudsward had suggested I apply to the film festival part of the Con because Marta Kristen was going to be appearing and having an autograph booth etc. So I did. I got my acceptance late and almost couldn't get a hotel room. My wife and I went and had a great time and met a lot of wonderful people. Of course we really didn't get to see much of Atlanta as we pretty much stayed in the 4 blocks of the Con. We did make it out to the Aquarium and the Coke museum and shop (where they actually sell imported Mexican coke with sugar, unlike all the USA Coke made with horrible tasting corn syrup). The Bolt screened three times at the fest. The shorts and animations I saw were all wonderful. Because Skylight was screening as well as Bill Plymptons "The Cow Who Wanted To Be a Hamburger" I was figuring those would battle it out for the awards. It was too my surprise that the top three animated shorts included those two and The Bolt. At the awards ceremony I discovered that The Bolt had wone Best Animated Comedy. I had never received any kind of award in person in my life. This was really great and I was truly honored.
Burbank International Film Festival 2010
I had every intention on attending this festival and missed my screening due to misreading the time. I thought my film screened at night as it was a 10am to Noon screening. Sadly because of this I missed seeing a theatrical version of Ken Mora's "Magnum Farce". I think this was another festival where "Skylight" won the best animated short category.

Hollyshorts Film Festival 2010
Sunday, August 8 the Bolt screened in Hollywood. I really wanted to make this festival and it is so close to home but I was in Scotland so I can't really complain.
Moving Pictures Magazine
The Bolt Who Screwed Christmas was featured in the Popcorn section of the september / fall issue. A very nice write up. This is the first time I've ever seen my name in the Table of Contents in a magazine or other publication.
More Good Press
While the Bolt has yet to get a review (amazing isn't it) it has picked up some great press along the way. One of my favorites was the article and interview done by the Pop Culture Passionistas for the Examiner
Bolt Wins at Ventura Film Festival 2010
It was July and California was having a cold foggy summer. Ventura was no different but I had submitted two films to this festival. I had worked on post production on Hawaiian Surf Stories, a collection of 5 short surf films that had never played theatrically (all films by director Jimi Berlin). I attended one of the screenings of Hawaiian Surf Stories with Ruston Slager who wrote the opening theme music for The Bolt. Ruston and I have played together in the band Anti-M for many years and we also scored part of the surf flicks. It was great to see the film up on the big screen. The best news came when I was notified that The Bolt had won Best Animation and Hawaiian Surf Stories had won Best Surf Film.
Seattle True Independent Film Festival 2010
This show was a full house. I helped by inviting all the friends I have that live anywhere near Seattle. I was blown away at the response I got from my friends. Friends came in from as far south as Portland Oregon and as far north at Vancouver BC. Best of all was getting to see Mauricio who I had not seen since we graduated from Brooks back in 1993. Also attending was Steve who plays the guitar on the song "Rap this around your head" heard during the end credits of The Bolt. Saw quite a few old high school friends as well as new friends I made at the Da Vinci Film Festival.
Dead Center Film Festival 2010
June, Oklahoma City. Sometimes it's all about scheduling. DeadCenter landed on the same week as STIFF in Seattle. I knew more than 12 friends were coming to the screening at STIFF so I made my choice to go to Seattle. So sorry to have missed DeadCenter.
Bolt Wins Award of Merit for Animation at the Accolade Film Awards 2010
Bolt Wins at 31st annual Telly Awards 2010
May 2010: The Bolt Wins 3 Silver Telly Awards
Use of Animation
Use of Humor
Entertainment
In The Bin Queensland Australia May 2010
I was very pleased when the Bolt was accepted to In The Bin, not only had the film finally gone "International" but I was so happy it was Australia. I love the Aussie sense of humor and have many great Aussie friends. Attending would have been amazing.
Spirit Quest Film Festival 2010
This was one of the few festivals that contacted me through The Bolts myspace page. But it was a "real" contact not just a spam type thing like "submit to our festival". I emailed back and forth with the festival organizers and eventually decided to submit. Held in Erie PA I was sad that I could not attend as some of my family was originally from Erie.
Phoenix Film Festival 2010
My wife and I travelled to Phoenix were we got to visit with my friend Robert Guth who previously worked on the TV series Coach, Hercules and Xena. Here I met Steven Bednar of the animated short The Fence Underneath Us. It was great meeting Steven and I wish him tremedous success. This is also where I saw the great animated short "No Naked" which screened with The Bolt, Stevens film and of course The Mouse That Soared which won the best animated short award, again.
At this festival I participated in the short film makers panel were the moderator (film maker Bruce Dellis) asked us questions about our different views on making short films. I shared the stage with fellow short film makers Charles Peterson (Sex and Violence), Chris Redish (25% Off) and Braverijah Gregg (Coming Out).
Los Angeles Comedy Festival 2010
May 2010. It is always an honor when you write something that you hope people will think is funny and then it gets accepted to a Comedy Festival. Sadly I was unable to attend.
Bolt Wins at Very Short Film Festival VSM Cinema 2010
| | |
| --- | --- |
| | The Bolt won Best Animated Film and the Award of Excellence at this Virtual Online Festival that is now VSMCINEMA.com |
FirstGlance Hollywood Online Short Film Contest 2010
Sadly the Bolt was Officially Rejected by FirstGlance Hollywood Film Festival. But the festival held an invitation only Online Competition. First of all you had to have submitted your film to the Film Festival. Then if you were not selected, a small selection of films were invited to compete. This is where I first saw Magnum Farce which The Bolt later screened with in the Burbank International Film Festival. Since this competition was not all animation I was competing up against many great live action shorts as well.
L.A. Comedy Shorts Film Festival 2010
One of the highlights of travelling to film festivals in 2010 was the L.A. Comedy Shorts. Dedicated to Comedy films which are frequently ignored by "artsy" film festivals and Co-founded by Boston Legal's Gary Anthony Williams (who you might also remember from such comedy classics like Malcom in the Middle, this festival was non-stop fun. It is so great to just sit back and enjoy one good comedy after another. Some festivals can get so dreary with all the political, social or environmental films that this is a refreshing break. My wife and I met film makers Gus and Melissa Guillen at this festival and we plan on attending together for the 2011 festival.
Meeting Gary Anthony Williams was good fun too. I asked him if there was any connection to the block of films that the Bolt screened with being called "Screw You". He said "absolutely". He also told me I was one of the first films to submit to that years fest and when they say down to watch and judge the films they put mine in, watched it and then they all said "well that one's in" or something to that effect. I recommend any comedy short film maker submit to this festival.
San Luis Obispo International Film Festival 2010
The Bolt was entered as a Local Film in this festival. What I didn't know was D.C. Fontana (known for her work as a Star Trek writer and consultant) was one of the selection judges. She said "It had a great animation style, clever and slightly naughty story (well put together) and was totally enjoyable!"
This was a great honor as I am a huge Star Trek fan. I was only able to attend the local part of this festival but all of the films were great and very professionally done.
Da Vinci Film Festival Corvallis Oregon 2010
This was only my second film festival and the first one I was going to attend away from home. I decided to attend this festival for personal reasons. First of all my friend Steve, who plays the guitar on the music for the end credits, said he would cruise down from Portland if I came to the festival. Then it turns out my friend Finn, who I met at the University of Oregon at the same time I met Steve, only lived 7 miles out of Corvallis. So I went to see old friends but what I found was a great festival that really knows how to do it. Although my film ran with experimental films, which I still think is wrong and that it should have run with the animations, I still had a great audience for both screenings. The festival has a large room where filmmakers and pass holders are allowed to mingle. You can sell your films, hang posters or talk to other film makers and film enthusiasts.
One of the highlights was meeting writer / director Greg Kerr, Composer Nan Avant, actress Carmela Ramaglia and actress Karla Mason all of the film Unremembered. I'm the first to admit that I don't often get along with a lot of other film people but this was the greatest group of professionals I've met. Everyone who worked on this film that I met was so nice and friendly. We actually attended their screening because of the relationship we built with them upon meeting them. I would be happy to work with any of them in the future. I also met Kyle Bell of the wonderful animated short The Mouse That Soared.
Theatrical World Premiere at Santa Barbara International Film Festival SBIFF 2010
Once again things just fell into place as The Bolt Who Screwed Christmas just happened to have it's theatrical world premiere in my home town of Santa Barbara. It was at SBIFF that I first saw "The Mouse That Soared", an amazing animated film by Kyle Bell. This film would take best animated short at nearly every film festival where mine screened. Other films I liked at SBIFF were "Hail Hitler" By Hunter Daniels, Urs by Moritz Mayerhofer, Leonardo, Secret of Kells, Honey Bee Blues (documentary) and of course many others. Photos coming soon.
Front Page News
To my surpise I got really good press in my home town of Santa Barbara. Not only did I get to do two radio interviews within a day or so of my first of two screenings, I also made the front page of the Santa Barbara News Press, right under the article on Sandra Bullock. Considering James Cameron was appearing the night of that pressing I was shocked that my film made front page and Cameron did not. Thanks to Scott Steepleton for writing an amazing story about the film.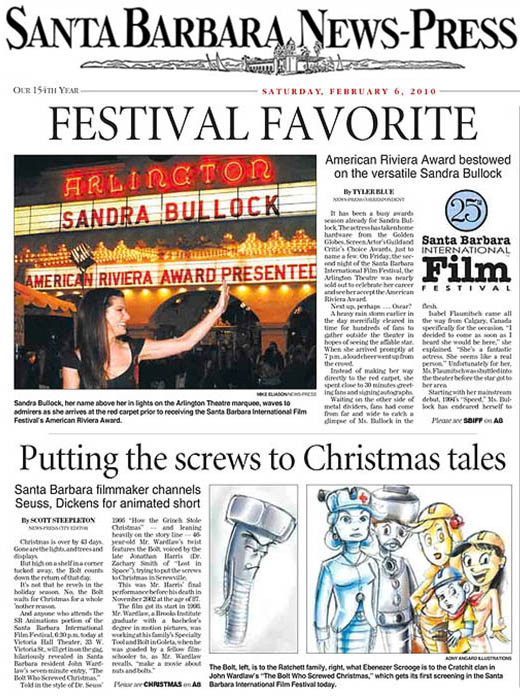 Bolt Wins at Los Angeles Reel Film Festival LARFF 2009
2009 ended with a bang. On the 28th of December I got an email notifying me of my awards at LARFF, a virtual film festival (Judging but no theatrical screening). The Bolt won awards in three categories and was nominated for 6 others: Best Animation Director, Best Original Score, Best Female Voice Over Artist (Tress MacNeille), Best Male Voice Over Artist (Jonathan Harris), Best Animated Visual, Best Animated Sound Design.


2009 Officially Rejected
You have to be prepared for rejections when you submit films to film festivals and I started off with a bunch of them. Sundance, Slamdance, Smogdance and several other film festivals all said no. After all that hard work I felt pretty down to start off with a bunch of rejections.

September 2009, It's Finally finished!!!
On the last day of September 2009, after many re-edits and a lot of mixing changes, The Bolt Who Screwed Christmas was finally complete. Now it was time to learn how much the film festival scene had changed since my last submission. My last film festival had been the 15th annual Santa Barbara International Film Festival with my film Chessmaster Theatre, yet another animated comedy that won a bronze Telly Award and ran in the Spike and Mike Festival of Animation. Things had changed quite a bit but it was nice to no longer have to submit VHS tapes and 16mm or 35mm film prints. DVDs and Online Screeners had mad the world a lot easier.

2008 Animation Complete
Adny finished the principle animation sometime in 2008. I was very pleased with the finished product. With the animation complete I set out to animate the opening titles and put the closeing titles on the film. While I attempted to do all the sound effects and music myself I finally relized that only the titles were going to have music I could work on. I used songs reworked by my band, Anti-M, for both the opening and closeing titles. Brett Tyrrell took on most of the sound effect and Gary Stockdale, another suggestion from David Goudsward, composed the films score.

Strange Suggestions
When I told my friend Bill Garst (any Brady Bunch fans out there? The character Billy Garst was named after my frined whose father was also the Editor on the Brady Bunch) about the scene with the Ratchet family he said "it would be funny if the mother was a Nurse, as in Nurse Ratched (portrayed by Louise Fletcher in the film One Flew Over The CooCoos Nest). I thought this was a great inside joke and I emailed Adny and asked him if he could make the character a nurse and also make her resemble Louise Fletcher. The rest is history.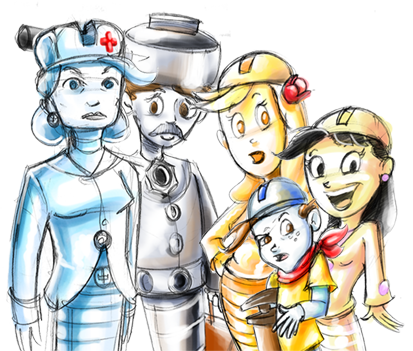 June 14, 2006 Lost In Space Reunion
I met with Bill, Marta and Angela on my birthday at Davis Glick studios. I played them the recording of Jonathan and Tress doing the script of the Bolt. I could tell they enjoyed hearing his voice. There were laughs and some tears and then we were off. It was a shame I didn't have a bigger part for any of them but it was still wonderful to work with them. There performances were great and my engineer and I were on the floor laughing at some of the spontaneous material that came along during the session.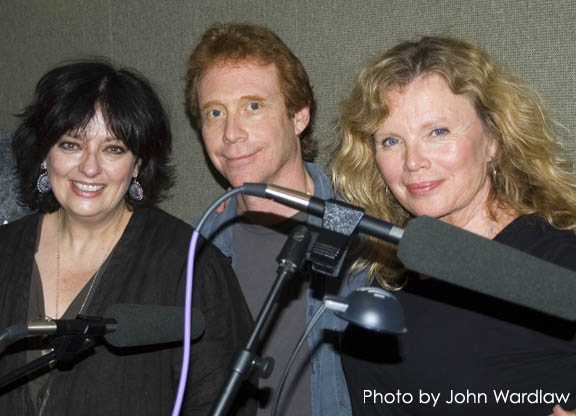 2006 Good Things Come to Those Who Wait
Sometimes things just fall into place. While animation was being handled by Adny with my occasional input and changes I started promoting the film. One of the places I started was at what appeared to be and official Jonathan Harris web site. This is where the importance of meeting David Goudsward comes into play in the making of The Bolt. Dave was the webmaster for Jonathan, Bill and Marta. He was unaware of my project and was very glad that I contacted him. Once again I was asked if I needed more voices as Bill and some of the other co-stars of Lost In Space might be interested in taking part in Jonathans final film. This time I did not say no and Bill, Marta and Angela were all interested. In fact at one point we considered contacting June Lockhart and Mark Goddard as well. Sadly June and Mark do not live anywhere close to where the session was to take place so it just wasn't financially practical with a limited indie film budget. So I sat down and wrote a new scene for the film, that of the Ratchet Family which would take my film temporarily out of the Suess Parody and into a Dickens Christmas Carol Parody. This also made my film not only the last performance of Jonathan Harris but the first time that these actors had appeared together in a film that was unrelated to Lost In Space. At this point I decided to Dedicate the film to the memory of Jonathan Harris.
2005: The Internet Saves The day
In 2005 I finally realized I had these great recordings and I had to get this film made. I placed an add on Mandy.com for an animator. I got several replies. Some were 3D digital animators and some were fantastic at creating charicatures of Harris' head on top of a bolt but the animator whose work and attitude I like the most was Adny Angrand. In late 2005 animation for The Bolt began with a planned completion date of August 2006. I mention the Internet saving the day. I would not have found Adny without the Internet. To this day (Nov. 2010) Adny and I have still never met in person.
November 2002
When Jonathan Harris passed away in 2002 I was still looking for an animator for the project. Not being and artist or animator myself I found it nearly impossible to locate anyone interested in the project. Rather than move forward I shelved the project. At this point I don't know if it was because of his passing or because of the difficulty I had finding an animator / artist.
May 2000 How Time Flies
After discussing and arranging the recording session with Jonathans agent, Charles Massey, I was asked if I needed any other voices for the film. He said that Bill Mumy liked to work with Jonathan and he might be willing to do a voice in the film. At the time there was no Ratchet family in the film so I said that I only needed a female voice to play Cindi. He immediatly said "how about Tress MacNeille". How could I turn down someone from the Simpsons. The recording session was booked at Woodholly Productions. Michael and I met Jonathan there and the studio was a bit behind schedule so Jonathan proceded to tell us many interesting and funny storys about working in film and television.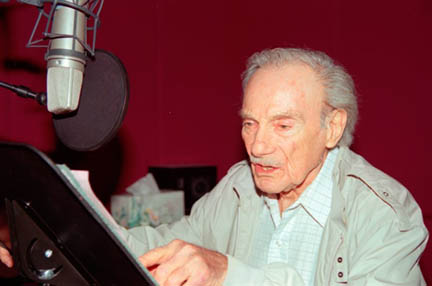 April 1998 I sent a letter directly to the home of Jonathan Harris. On April 13, 1998 I received a hand written letter from Harris stating he would like a copy of the script which he would be happy to read. On April 27 Harris writes another letter stating "Narration for THE BOLT WHO SCREWED CHRISTMAS" is possible - Naughty but nice" and had me contact his agent to arrange the details.
1997 Michael Wilcox suggested we make a film about nuts and bolts. The inspiration is Specialty Tool and Bolt, where I works part time. The company is owned by my brother Scott and my father Patt. That night I wrote a script titled "The Bolt That Stole Christmas". Michael threw in a few lines too.